"Train up a child in the way he should go, And when he is old he will not depart from it." (Proverbs 22:6).
When it comes to teaching our children about God and disciplining them; this verse is famous among Christians and why should it not be? This verse itself talks about why it is so important to discipline our children and teach them to obey God.
Let's dig deep in detail and get a biblical foundation for why it is so important to teach our children about God :
1. Children are a responsibility given by God
The Bible says children are a gift from God : 
"Behold, children are a heritage from the Lord,
The fruit of the womb is a reward."
(Psalm 127:3)
Many parents take God's blessings for granted, they seem to forget the happiness of having children. In the Bible, there are many parents who were mocked and ridiculed because they didn't have children. They prayed, cried, and even fasted for children. Having no children seemed like a curse in the olden days and even in today's time in some countries. Ask a woman who doesn't have kids, who cannot be a mother; how blessed are those who have the joy of seeing their children growing up and calling them mom and dad? If you have children, then know they are a gift from God.
They are a gift from God and now it's your responsibility to raise them in God's righteousness. God has given that gift to you because He believes in you for them. 
2) They are our future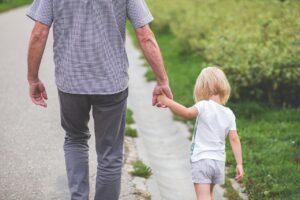 The greatest gift that we can give as parents to our children is to give them a bright future. Telling them the importance of having Jesus in their life and assuring them Jesus is always with them will change their entire earthly life. It will boost their confidence in their day-to-day lives. 
There will be a time when they will feel alone, rejected, deceived, etc., but they will remember the Bible verse that they have heard in your morning devotion or in Bible study.
"So do not fear, for I am with you;
    do not be dismayed, for I am your God.
I will strengthen you and help you;
    I will uphold you with my righteous right hand."
Isaiah 41:10
Your teaching and example will help them to teach the next generation and it will continue like this till Jesus returns. So, you are not only saving your children from hell but all future generations that are to come. Therefore, invest your time in teaching your children about Jesus and His righteousness.
3) They will be able to fight back

 
In this confused and twisted world, they will be able to distinguish what's sin and what's holy. Some people don't know the word of God, so they can't understand the enemy's twisted weapon. Remember, the devil twisted the word even for Jesus, so knowing the word of God perfectly is very important.  
If the enemy attacks, they will be able to fight back with the word of God. The word of God is the sword of the spirit, which is a part of the armor of God.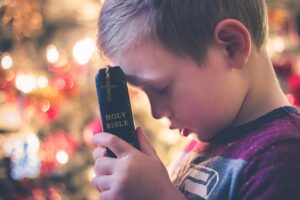 4) They will always have a way
The world is full of sin, if the word of God is in them, they will always come back to God, even if they wander, fall into bad addictions, and are in sinful ways.
 I remember in the early days of my life around 2007, I was on fire for God, doing whatever it took to glorify God. I never stopped myself from pleasing God but when I went to 10th grade, new friends came in and I started enjoying worldly pleasures. 
Soon after I found myself away from the church, addicted to drinking, and smoking, and into a bad relationship. There was no peace and joy in my life. Whatever felt pleasing in the beginning started to ruin my life. I came to a point where I wanted to end my life but God reminded me of the seed that my mom had sown into my life and the things that my pastor had taught me. At this time God revealed His true and unconditional love to me. I repented and God set me from the addictions and now I am serving Him. Now, God has completely changed my life all around. I am learning about Him every day, I have made Godly friends, I am an evangelist, God has blessed me with my own ministry, and most of all, God has blessed me with the love of my life all the way from the USA, who is also the co-founder of our ministry, and I couldn't be more grateful for all that God has done for me.
The word of God is a seed that will grow at its time.  So teaching your children about God will always benefit them. They will always remember that there is a God who loves them unconditionally and is powerful enough to rescue them from every situation. 
5) They can save people from the hell.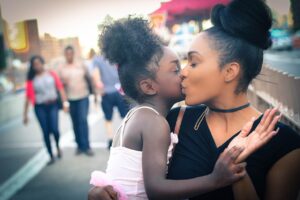 The seed that you sow into your children's hearts will not only benefit them but others also. In this peace-less world, everyone is dealing with something but your child can introduce them to the prince of peace, Jesus Christ, who can give them the peace that this world cannot give. Their friends and many other souls will be saved from hell and they will glorify God and there will be great joy in heaven.
 "Peace I leave with you; my peace I give you. I do not give to you as the world gives. Do not let your hearts be troubled and do not be afraid." (John 14:27)
6) You will not be worried about them any longer.

     
It will also help you to not be afraid of them even after you are gone from the world. Because God is going to be with them as their Father, protector, provider, etc.; it will give a sense of relief when you see your children are walking with God, won't it?