Characteristics of a Child of God
According to John 1: 12, since we received Jesus as our Lord Saviour, He has given us the right to become children of God. And now that we are children of God, we should act and walk like we are children of God. We should practice characteristics of a Child of God that will reflect God and His holy nature through our lives. Jesus called us "the light of the world" (Matthew 5:14). Why? Because we have His light and that light must be shining through our lives in this darkened world.   
Moreover, Jesus says  "By their fruit you will recognize them. Do people pick grapes from thorn-bushes, or figs from thistles?" (Matthew 7:16). By your fruits, you will be identified whose son you really are. Meaning by your actions or behavior or feeling towards people, people will understand you either you are a child of the Devil or a child of God. So after reading all this, I hope you've understood as a child of God, how essential it is to have godly characteristics in us. 
1.

 

A child of God obeys the Holy Spirit

 –
      "For those who are led by the Spirit of God are the children of God." (Romans 8:14). The Holy Spirit is here to guide and help us. Direct the way we should go on and fulfill the will of God. Every child of God must understand the benefit of obeying the Holy Spirit. Without the Holy Spirit's guidance, we may not accomplish the tasks that God has given us. It's very crucial to be led by the Spirit. 
Look at the early church in the book of Acts, they were led by the Spirit and many numbers of believers kept adding to their church. Miracles were performed, people were healed, the Gospel was preached everywhere and as a result, people believed in Jesus and received salvation. If they could do it, every child of God can accomplish a God-given task, if he/she starts to obey the Spirit. We must learn how to humble ourselves and respect what the Holy Spirit has to say, only then can we learn how to defeat sin and learn how to stay holy. 
2. A child of God has the fruit of the Spirit.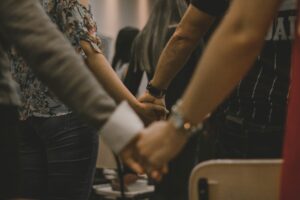 "…the fruit of the Spirit is love, joy, peace, forbearance, kindness, goodness, faithfulness, gentleness and self-control. Against such things there is no law." (Galatians 5:22-23).
As we have talked about earlier, by fruit, we can understand much more about a person. A child of God has to have the fruit of the Spirit which is love, joy, peace, forbearance, kindness, goodness, faithfulness, gentleness, and self-control. The fruit of the Holy Spirit is singular but it has different sides and corners. Ex. One diamond but different types of facets or one coin but two sides. Now let's learn very briefly what the Bible says about each corner of the fruit which makes it a whole fruit that every child of God must-have. We have written a full blog with a good explanation of the fruit of the Spirit and how we can grow it. Please do read it  – The Fruit of the Spirit Explained.
a) Love

 
"A new command I give you: Love one another. As I have loved you, so you must love one another. By this everyone will know that you are my disciples, if you love one another." (John 13:34-35).  By showing love to one another, we actually show we have a relationship with God. You cannot say you love God and yet hate people. God loves His creation and wants all lost to be redeemed. If we say we love God we must love all that He loves and hate all that he hates.
God is love. Whoever lives in love lives in God, and God in them. (1 John 4:16).
b) Joy
"Consider it pure joy, my brothers and sisters, whenever you face trials of many kinds, because you know that the testing of your faith produces perseverance." (James 1: 2-3). God-given joy doesn't only last in happy moments but even in difficult situations and trials. The joy of the Lord is our strength. In God's very presence there is fullness of joy. It's in His presence that we find that joy, when our eyes are fixed upon Him, as we seek Him, we should be filled with joy as well.
"The joy of the Lord is our strength" (Nehemiah 8:10). "In Your presence is fullness of joy" (Psalms 16:11).
c) Peace

 
 "Peace I leave with you; my peace I give you. I do not give to you as the world gives. Do not let your hearts be troubled and do not be afraid." (John 14:27). children of God have peace in their heart because they trusts in the Lord no matter what they go through. Jesus is the prince of peace, only He can give true peace. True peace comes from knowing that you are saved, a child of God, and will spend eternity in Heaven with your Heavenly Father. Peace also comes from fully trusting God whatever may come and knowing that He is a good God and that is for you not against you and moreover, He is with you.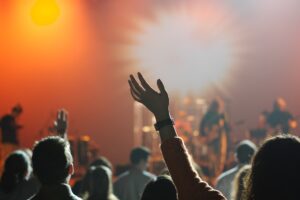 d) Forbearance
"…bearing with one another, and forgiving each other, whoever has a complaint against anyone; just as the Lord forgave you, so also should you."(Colossians 3:13).  Forbearance means patience and as sons and daughters of God, we should imitate God who is patient and slow to anger. Patience is important if we want to work in the kingdom of God. Whether we like it or not, we have to interact with people and we tend to expect perfection from our fellow imperfect human beings and have low patience with them, but to be like Jesus is to show grace and patience with people as God does with us.
e) Kindness
 "Be kind and compassionate to one another, forgiving each other, just as in Christ God forgave you." (Ephesians 4:32). Being kind goes such a long way because being kind is not the same as being nice. Being nice is being agreeable and pleasing but to be kind is in the way you treat people. You can disagree with someone and still be kind to them. Kindness is in your actions, attitude, and tone you use. You can't please everyone and agree with everyone on everything but you can show people decent respect and treat them as human beings, with kindness.
f) Goodness
"…Therefore, as we have opportunity, let us do good to all people…" (Galatians 6:10). We must have goodness in our hearts towards people. Whatever is inside will eventually come out. We must not speak goodness to people but yet have evil thoughts and intentions towards them. Even when people wronged Him, Jesus had good in His heart towards everyone. If we focus on God's characteristics and strive to be more and more like Him, quite naturally, we will have good in our hearts, be good and do good towards all around us.
g) Faithfulness

 
"…Well done, good and faithful servant. You have been faithful over a little; I will set you over much…(Matthew 25:21). It is crucial to be faithful, most importantly to God in all our ways. From our talents, to our gifts, our callings, our work, our business, school, etc. Whatever the arena you may find yourself, anything that God has given us or put us stewards of, we must be faithful with it. Jesus says if we cannot trust you with earthly riches and earthly things, who will trust you with heavenly riches. We must be faithful or full of faith, in every sense of the word. Without faith, it is impossible to please God. Through faith is how we access anything from God, from salvation to promises, we must use faith. Faith is the currency which we use to access the heavenly realm from the natural realm. And even faith as big as a mustard seed is enough for God to use to show forth His glory and use us for His purpose.
"Without faith, it is impossible to please God.." (Hebrews 11:6).
h) Gentleness
"Therefore, as God's chosen people, holy and dearly loved, clothe yourselves with compassion, kindness, humility, gentleness and patience." (Colossians 3:12). Being gentle doesn't equate to weakness, and neither does kindness. It takes strength to be gentle. Being gentle is being perceptive, understanding, humble, and thankful most of all to God. What is innate is to react to anger, judgment, resentment, etc. But being gentle allows you to remain calm yet firm in your ways; it creates a space of reception to criticism, righteous judgment, correction, etc. A place where growth can happen.
i) Self-control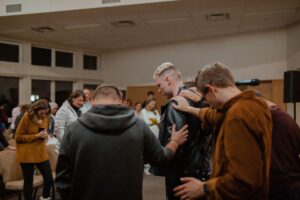 "For the grace of God has appeared that offers salvation to all people. It teaches us to say "No" to ungodliness and worldly passions, and to live self-controlled, upright and godly lives in this present age…"  (Titus 2:11-12). A child of God should learn how to control their emotions, cravings, flesh, and desires in order to stay holy and to walk in the righteousness of God. We have to make sure that God has control of us not our own fleshly bodies in order to do His will. 
3. A child of God is a prayer warrior.

 
Daniel was a prayerful man. David was a worshipper of God, therefore the Bible calls David "a man after God's own heart" (1 Sam. 13:14). Moses was on the mountain with the Lord, fasting for forty days and forty nights (Exodus 34:28) and God called him His friend (Exodus 33:11) and the most humble person (Numbers 12:3). Prayer is the intimate conversation with Almighty God. It's walking with Him, the Bible said, Enoch walked with God and God loved him so much that He took him up to Heaven with Him. That intimacy is dwelling in the secret place of the Most High, it's staying in His presence each and every day.
"He who dwells in the secret place of the Most High shall abide under the shadow of the Almighty" (Psalms 91:1). "For a day in Your courts is better than a thousand elsewhere.." (Psalms 84:10).
Children of God, what's your testimony in the sight of God. People in the Bible were not perfect people, they failed and sinned but they asked forgiveness, and again tried to live a holy life, a life pleasing to God, by the help of God they lived an obedient life. Today I want to challenge you to live like children of God and let the world see that you belong to Heaven. Please read and study  1 Thessalonians 4 where Paul talks about living to please God.