There are many Christians who want to have a powerful prayer life and a strong bond with God. As a result, they make a schedule to pray. However, as days pass by, they struggle to have the same passion and fire while praying that they used to have in the beginning. It feels boring to pray.
So let's discuss the topic and see how we can have a better and enjoyable prayer life and become a powerful prayer warrior. 
Keep Prayer Simple –
Prayer means simply talking with God. We think we have to have strong words and a long prayer to get an answer. Nowhere in the Bible does it tell us about praying a long prayer but rather it tells us not to babble. And when you pray, do not keep on babbling like pagans, for they think they will be heard because of their many words (Matthew 6:7).
Talk with God as you talk with a friend but, we must also not forget that He is our God. We must pray with Godly fear and with respect and honesty.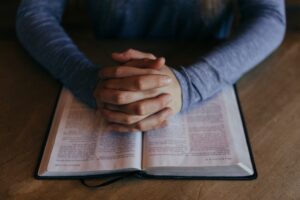 Listen to God –
We often pray, speak what we want and give a long list of what we need to God and move on into our life. This is called a one-sided conversation and it has no meaning and no respect at all. Don't just talk and not give time for God to speak. It is clearly disrespecting God and His words.
You May Like – Living a life that pleases God.
 Always have time to hear from God because He wants to talk with us too. There are many ways that God uses to speak with us but God uses mostly His scripture to communicate with us. So if you don't understand how God speaks or how to hear from Him, then simply read The Bible and He will speak with you.  
Read the Scripture and pray over verses –
If you want to make your conversation effective then read the Scripture. Reading His words will help you to know more about God and you will be able to understand the depth of His love. There is guidance, wisdom, insight, and understanding in His words.
While reading the Bible hold on to the promises and believe them. If He teaches you something then ask Him to work in you according to the Verse that He has spoken through to you.
Exp.  He says in The Bible "For where two or three gather in my name, there am I with them" (Matthew 18:20).  Invite Him in your prayer as the verse speaks and believe He is with you.
Make it interesting –
Over a period of time, a prayer routine can become boring and dull. Moreover, there are billions of distractions that may hinder our prayer lives and it can become hard to focus on prayer.
There are Christians who use their creativity to focus on prayer. I personally listen to Christian instrumental music to focus and it really helps me to stay on track, focused, and keep my mind calm.
If your phone buzzes every second and you get distracted, then just keep your phone on airplane mode or keep it away from you so that you cannot see it. It really helps me. Mute every distraction that would hinder your prayer and try to focus on the prayer. 
You can go on walking while praying or pray out loud at home or office. See what helps you and if one method feels boring then, change and try a different one.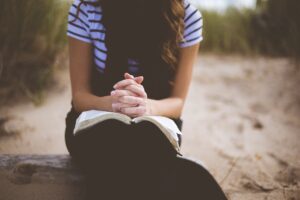 Pray with expectations and never give up –
What's the point if we pray and don't expect answers from God? Is He not worthy enough to answer our prayer? God wants us to expect the answer and believe in His provision. God says "Call to Me and I will answer you, and I will tell you great and mighty things, which you do not know" (Jeremiah 33:3). 
Pray with the expectation that God answers every prayer and believe it is done.
Jesus once told a story of a poor widow lady and a corrupt judge in Luke 18:1-8. She was repeatedly asking to judge what was right but the judge kept on refusing her request because he just didn't care. But eventually, He gave in and granted her request because of her persistence.
You May Like – The Importance of spending time with God.
If a judge who is corrupt can grant her request because of persistence, then how much more will our God (who is righteous and holy and does care for us) hear our prayers, if we pray with perseverance. Therefore, we must not give up.
Pray without Ceasing –
Paul says "Pray without ceasing" in 1 Thessalonians 5:17. Praying without an end; is it possible? Let's analyze this. When Paul tells us to pray continually, it does not mean that we have to be in a state of prayer during every waking moment, but rather means that we must have a prayerful heart.
 Pray if you see somebody in need, pray if you read or watch heartbreaking news, pray before eating food, pray before starting our day, pray for your life or spouse or child(ren), pray for your friends, pray for your business or ministry, pray before you buy anything, pray over future plans, pray for wisdom. Altogether, pray for everything, and this is called praying without ceasing.
Conclusion –
If you find that it's hard, don't get discouraged, ask Holy Spirit to help you. It's totally understandable if you get distracted or off the track but don't just stay there, but get back on the track every time. It's not realistic to expect to learn everything overnight or be able to pray for 5 hours a day (per se) overnight, but it is about starting from where you are at currently and then progressively challenging yourself and getting into an effective and strong prayer life. God is not more interested in us being able to pray however many hours a day religiously as he is interested in seeing our progress and hearing from His beloved children as we are cultivating that intimate relationship with Him.
 Comment below your ideas for making an effective prayer life.