When we experienced peace at the feet of Jesus, we no longer want to go back to the world and invest our time and money in its stupidity which never produces happiness or a life that we want or that God desires from us. God has a plan for every person on this planet. Most men like me have a very similar question, how do I become the man of God that God desires? Or how do I become a God-pleasing man? 
Well, let me be honest, it's not that simple to become a man of God, but again, it's not impossible. Jesus says everything is possible with God (Matthew 19:26). You need to be persistent with this decision and put some effort into developing a person that God is pleased with. 
Before we move forward you need to understand what is the meaning of a man of God.  The man of God is a person who continually walks in the direction of God, trusts in God for everything hates sin, is a God-pleaser and not a people pleaser, and most importantly He puts God in the first place in his life. It doesn't mean that he is a perfect man but rather he tries his best to live a life that pleases God. Let's see some characteristics of a man of God. 
1. A MAN OF GOD ALWAYS PUTS GOD FIRST
 A lot of people find it hard but a man of God always makes sure that God is above everything in his life. Not his spouse, relatives, friends, business, or any worldly pleasure, it's just God on top of his list.
"If anyone comes to me and does not hate father and mother, wife and children, brothers and sisters—yes, even their own life—such a person cannot be my disciple (Luke 14:26-27) 
Jesus says whoever wants to be my disciple must deny ALL including himself. There must not be anybody sitting on the throne of God in a man of God's heart, not even himself. GOD FIRST.
2. A MAN OF GOD HAS FRUIT OF THE SPIRIT
This is the main and important part of a man of God's life. He must have the characteristics of the fruit of the Spirit. It shows that Christ lives in Him. 
"…the fruit of the Spirit is love, joy, peace, forbearance, kindness, goodness, faithfulness, gentleness and self-control. Against such things there is no law." (Galatians 5:22-23)
I have already written a full blog on the fruit of the spirit and how to grow it. Click the link below and read it. 
3. A MAN OF GOD IS RESPONSIBLE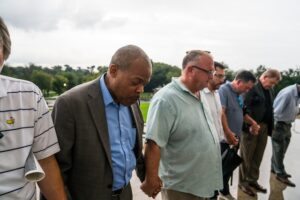 A man of God takes responsibility and he notices everyone around him, he doesn't let sin prevail but stands for the truth. He raises a God-fearing generation so that God would be glorified all the time. 
A man of God takes good care of his family, he makes sure that his family members' needs are all met physically and spiritually. He is loyal and trustworthy. 
 "But if anyone does not provide for his own, and especially for those of his household, he has denied the faith and is worse than an unbeliever."  (1 Timothy 5:8)
4. A MAN OF GOD IS HONEST
"All you need to say is simply 'Yes' or 'No' anything beyond this comes from the evil one." (Matthew 5:37)
A man of God is reliable and faithful to what he says. He doesn't lie or cheat anybody but rather he fears the Lord. His yes means yes and his no means no. 
5. A MAN OF GOD IS HUMBLE
"Humble yourselves in the sight of the Lord, and He will lift you up."  (James 4:10)
Humility is the most essential attribute of a man of God. Without humility, he may not be able to fulfill the vision of God. Whenever pride comes, it brings destruction. There are many examples in the Bible, where God's chosen servants became prideful and God had to remove them from the place where God had kept them. 
"Pride goes before destruction, and a haughty spirit before a fall." (Proverbs 16:18)
"And whoever exalts himself will be humbled, and he who humbled himself will be exalted" (Matthew 23:12)
"God resists the proud, but gives grace to the humble" (James 4:6)
Without humility, you cannot attract God's presence.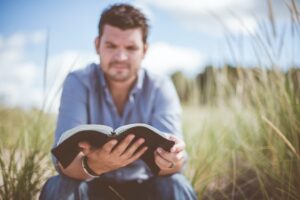 6. A MAN OF GOD IS BOLD YET LOVES UNCONDITIONALLY
 A man of God is responsible for the people around him. He must rebuke and warn those who are indulging themselves in sin. He is bold yet he loves people unconditionally because God loves him unconditionally. 
He doesn't hold grudge against anybody. He teaches rebukes in love and in hope that they will be set free from sin and be a part of God's holy family. 
"Those who are sinning rebuke in the presence of all, that the rest also may fear." (1 Timothy 5:20)
"If your brother or sister sins against you, rebuke them; and if they repent, forgive them. (Luke 17:3)
7. A MAN OF GOD FULFILLS GOD'S WILL
"For whoever does the will of God is My brother and My sister and mother." (Mark 3:35)
A man of God loves to see what God wants him to do. His soul rests upon fulfilling God's will and not his own.
A man who wants to be His disciple knows that God knows every need of him even before he asks. Therefore,  he seeks the kingdom first and righteousness with the assurance that his every need will be provided at the perfect time.
"But seek first the kingdom of God and His righteousness, and all these things shall be added to you." (Matthew 6:33)